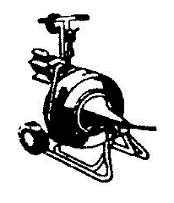 Dr. Electric Sewer & Drain
is owned and operated by Dominic Lograsso. Dominic has been in business for over 25 years and has been taking care of home and business owners plumbing problems for over 32 years. With thousands of satisfied customers he is sure to be able to handle any job you can throw at him and his reliable crew.
"When your at your worst is when I do my BEST!"
This has been Dominic's motto for years. No matter what your plumbing dilemma, or what time of day it is Dominic and his team will always do their very best to get you back to your daily routine with as little inconvenience as possible. You can count on the crew at Dr. Electric Sewer and Drain, where they don't mind taking a little crap!
Some of their Services Include:
PLUMBING SERVICE AND REPAIR
SEWER AND DRAIN CLEANING
BASEMENT BATHROOM ROUGHS AND FINISH
VIDEO SEWER INSPECIONS
WASTE AND WATER SUPPLY LINES LOCATED
GAS LINE LOCATIONS
GAS LINE INSTALLATIONS
HOT WATER HEATER INSTALLATIONS
NEW CONSTRUCTION ROUGH INS
LEAD PIPE REPAIRS AND REPLACE
CLAY WASTE PIPE REPAIR AND REPLACEMENT
LIFT PUMP INSTALLATIONS AND REPAIR
COMMERCIAL PLUMBING INSTALLTIONS